Discovering books
Reading maps
Watching films
Researching literature
Investigating bequests
Meeting experts
Opening up worlds
Entering virtual spaces
Getting to know Eastern Europe
Finding knowledge!
Library
Finding knowledge on Eastern Europe
The Institute's academic reference library is the largest specialist library on Eastern and Central Europe located in the eastern federate states. It furnishes the GWZO's researchers with specialist and fundamental literature. Expert and municipal audiences are also invited to use its material on site.

The library comprises around 130,000 media units split between its shelf displays and stacks, all of which are listed in the GWZO's online catalogue.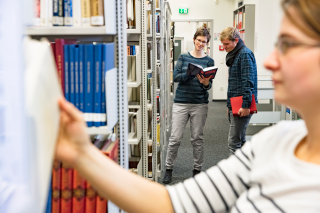 Site
Beneath the roof the Specks Hof Messepalast, on the 6th floor, spread across 470 square metres, stand four catalogue work stations for online research as well as eight reading stations. The library has WiFi (eduroam), a scanner for books as well as A3 formats, a microfilm reader and copying facilities.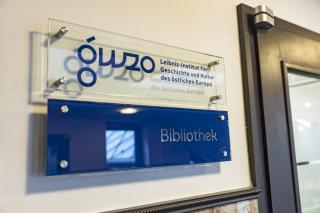 Opening hours
Tuesday to Thursday
1pm–5pm
Library reopening
The GWZO's library has been reopened since 1 July 2021: We are thrilled to welcome you back in an analog sphere. Please remember to always wear a medical-grade mouth-and-nose cover in the library's rooms.
Address
Leibniz-Institut für Geschichte und Kultur des östlichen Europa (GWZO)
Specks Hof (Entrance A)
Reichsstr. 4–6, 6th floor
D-04109 Leipzig
+49 (0) 341 97 35 543
 
Inventory
The GWZO's library contains a broad collection of relevant literature on Eastern Europe, especially on its East-Central European heartland of Poland, the Czech Republic, Slovakia and Hungary, but also on the region between the Baltic Sea, the Adriatic and the Black Sea as a whole. The inventory is growing consistently, supplemented by new acquisitions related to the current fields of research subjects. It supports research into history, archaeology, onomatology, ecclesiastical history, art, urban studies, literature and culture, as well as politics and economic questions.
 
Digital resources
The GWZO's library is working with the house's Digital Knowledge area are as well as external partners to construct an electronic research environment for the humanities and social-science research of Eastern and South-Eastern Europe, providing open access publications as well as research data on relevant platforms as digital resources.
GWZO library catalogue
The catalogue lists our library's inventory. The majority of the inventory has been tagged by subject and can be searched by keyword.
LerXe – discovery service for Leipzig's science community
Leipzig's regional discovery system crosslinks the inventories of Leipzig's libraries and renders them searchable through a unified web interface.
Regionalkatalog Sachsen [Saxony's regional catalogue]
This catalogue lists the inventories of the academic libraries of Saxony recorded in the integrated database of the Südwestdeutscher Bibliotheksverbund [Southwest-German Library Network] (SWB).
SWB – Südwestdeutscher Verbundkatalog [Southwest-German Network Catalogue]
The SWB network system records the inventories of around 800 libraries, including ours.
KVK – Karlsruhe Virtual Catalogue
The Karlsruhe virtual catalogue is a meta search engine that enables users to simultaneously search through German and international library catalogues as well as cross-library databases.
VOE – Verbundkatalog Östliches Europa [Network Catalogue of Eastern Europe]
This network catalogue of Eastern Europe records the inventories of over 30 libraries and cultural-academic establishments in Germany, Poland and the Czech Republic.
OSMIKON – Research Gateway to Central, Eastern and Southeastern Europe
The research gateway to Central, Eastern and Southeastern Europe consolidates services on offer for German research into Eastern and Southeastern Europe.
Slavistik-Portal [Slavic Studies Portal]
The portal serves as the central port of call for subject-specific information available online for Slavic studies.
Zeitschriftendatenbank [Journal database]
The Zeitschriftenbank is the central bibliographic database for periodicals and series in Germany and Austria. It also lists the GWZO's inventory.