Contact
Reaching us
Leibniz-Institut für Geschichte
und Kultur des östlichen Europa (GWZO)
Specks Hof  (Entrance A)
Reichsstr. 4-6, D-04109 Leipzig
Tel. +49 (0)341-97 35 560
Fax +49 (0)341-97 35 569
info@leibniz-gwzo.de
Mitropa – Annual Magazine of the Leibniz Institute for the History and Culture of Eastern Europe (GWZO)
Newsletter
Do you want to be kept up to date about what's new at the GWZO? Subscribe to our monthly newsletter.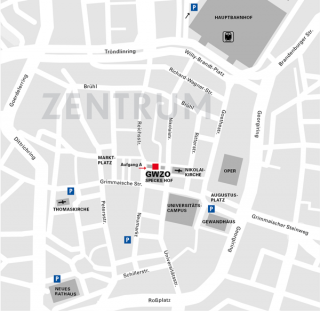 Tram
Walking from Leipzig Hauptbahnhof: exit the Hauptbahnhof, cross Willy-Brandt-Platz and follow the Nikolaistrasse up to the Nikolaikirche (St. Nicholas Church). Turn right into the Specks Hof Passage. Entrance A is found at the end of the passage to the right.
Car
The GWZO lies within the car-free city centre. You can find parking places on the sketch of the city map.
Leipzig-Halle Airport
The S-Bahn will take you from Leipzig-Halle Airport to Leipzig Haupbahnhof in just a few minutes. From there, see »Tram« above.