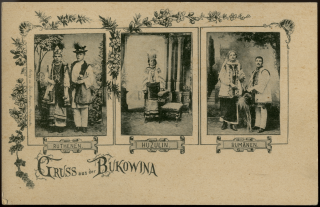 Production of visual media in Eastern Europe
The GWZO is researching visual media producers in the multi-ethnic regions of Eastern Europe around 1900, at the intersection between economic and cultural history — for the semantics of the visual worlds around ethnicity in Europe Europe cannot be separated from their production, distribution and marketing.
This project is part of the GWZO's department »Interconnection and Globalisation« in the subject area »Interculturalism«, with third-party funding through the Federal Commissioner for Culture and Media (BKM).
Images of German-Polish-Jewish Relationships
This Polish-German cooperative project explores the iconography of Polish-German-Jewish relationships in the first decades of the »visual age«, that is, from the 1890s to the 1930s. Visual mass media became central to world perception in this phase, while German-Polish-Jewish relationships grew increasingly adversarial.
The project is part of the department »Culture and Imagination« in the subject area »Knowledge and Truth«, and is funded by the Deutsch-Polnische Wissenschaftsstiftung [German-Polish Academic Foundation].
Handbuch »Polen in der europäischen Geschichte« [A Manual: Poland in European History]
The four-volume academic manual, published by the Hiersemann publishing company in Stuttgart, is the work of its editorial director Michael G. Müller and numerous German, Polish and other international authors; it offers the first comprehensive German-language overview of Poland's history from the Middle Ages to the present, discerning Polish history as a constituent of European history.
GWZO Junior Research Group »Contrasting East Central Europe«
One post-doctoral and four doctoral projects from the fields of history, cultural studies and political science conduct comparative research on East Central Europe from a transregional perspective, both within Europe and in relation to other world regions. The Junior Research Group is also involved in two projects that are carried out in collaboration with the GWZO departments.
leibniz GWZO prague
»leibniz GWZO prague« ist eine gemeinsame Initiative des Leibniz-Instituts für Geschichte und Kultur des östlichen Europa e. V. (GWZO) und der Akademie der Wissenschaften der Tschechischen Republik (AV ČR), vertreten durch deren Philosophisches Institut. »leibniz GWZO prague« ist eine Plattform für vielfältige Aktivitäten mit der Akademie der Wissenschaften der Tschechischen Republik sowie zahlreichen anderen Wissenschaftsinstitutionen und Museen. »leibniz GWZO prague« veranstaltet Round-Table-Gespräche, Vorträge, Workshops, Konferenzen, Ausstellungsprojekte, veröffentlicht Buch- und Onlinepublikationen und anderes mehr.