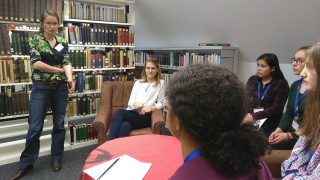 Sommerschulen
Das GWZO beteiligt sich an Sommerschulen der Universität Leipzig und des LeibnizCampus EEGA und weiterer Partner.
Sommerschule Moldova-Institut
»Ethnische Minderheiten im östlichen Europa«
mit Maren Röger, Adamantios Th. Skordos und Jan Zofka
Sommerschule des Moldova Institutes Leipzig unter Beteiligung des GWZO
24.8.–13.9.2022
Ort: Chişinău, Republik Moldawien
mehr erfahren
September School in Medieval Studies (LeiPra)
»Crisis & Transition in Late Medieval Central Europe: Politics – Religion – Environment«. 
This five-day September School in Medieval Studies will explore the phenomenon of the so-called »Crisis of the Late Middle Ages« in a Central European context from the perspective of political, environmental, and religious history.
Organisation and Concept: GWZO-Department »Humans and Environment« (Dr. Martin Bauch) in collaboration with the Centrum Medivistických Studíi (CMS), AVČR Praha (Dr. Václav Žůrek, Dr. Pavel Soukup)
12.–16.9.2022
Locations: Prague / Leipzig / Erfurt
learn more
PhD School
»Heritage at Home. Interdisciplinary Perspectives on the Heritage of Residential Districts in the Post-Socialist/Soviet Cities«
The PhD School will focus on critically discussing concepts and practices of heritage in residential districts. The School is designed for doctoral students and early career researchers interested in heritage studies and urban development, coming from a variety of disciplines, such as architecture and urban planning, art history, urban geography, economics, sociology, anthropology. They will be able not only to present their research and receive feedback from established scholars, but also to interact with fellow young researchers.
26.–30.9.2022
Location: Online
learn more