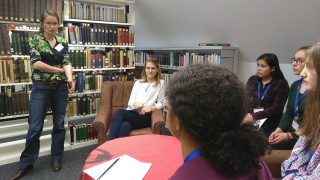 Sommerschulen
Das GWZO beteiligt sich an Sommerschulen der Universität Leipzig und des LeibnizCampus EEGA und weiterer Partner.
EEGA-Summer School with journalists
»Populism in European Societies – Repercussions in the Media«. Thematic panels, round table discussions, specific trainings and workshops.
22.-25. September 2019
mehr erfahren
XVII International Summer School of the Graduate School Global and Area Studies of the Research Academy Leipzig
»1989 – A Caesura in Global History and its Consequences«, 12.-15. Juni 2019
mehr erfahren
FRAGES-Sommerakademie
Vom 14.-20. Juli 2019 fand die Sommerakademie »Gender-Studies 1989-2019: Bilanzen und Perspektiven im transnationalen und transdiziplinären Vergleich« des Zentrums für Frauen- und Geschlechterforschung (FRAGES) der Universität Leipzig unter Beteiligung von Mitarbeiterinnen des GWZO statt.
mehr erfahren